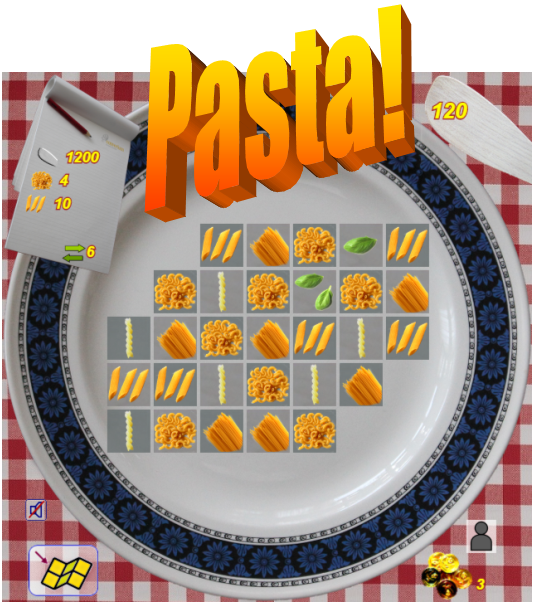 Align three pasta: they disappear. The ones above them fill the gap. Got it ?
Then align more, and more, and more!
Level after level, you will discover you just can't stop grabbing pasta in this addictive puzzle game.
Fortunately, you don't need to eat all of these spaghetti, penne, fusilli and plenty others...


Pasta! looks like a classic multi-level match-3 game — but... it is different:
Pasta! is a pure online game: this Web app works indifferently on smartphones, tablets, or computers.
Just a good Web browser supporting HTML5+JS (e.g., Chrome) is needed. No iOS or Android app to install. No plug-in. Not even Flash!
Pasta! is absolutely free. None of those nasty "in-app payments" will appear at any time in the gameplay.
You have an infinity of lives in Pasta! You cannot die (in that game). The only challenge is to stop playing!
There is nothing to download actively or to update later on your devices. When the game is updated (new levels, graphics, ...) just come back to the Web site, that's it!
Pasta! respects your privacy: we don't require your e-mail or your social media identity
for managing your player identity.
No complicated registration, no passwords.
Nevertheless, you can play on different devices with the same player code,
so your top scores and progression in the levels are saved and synchronized.
Just play, we do the rest!
Magic, isn't it ?
---